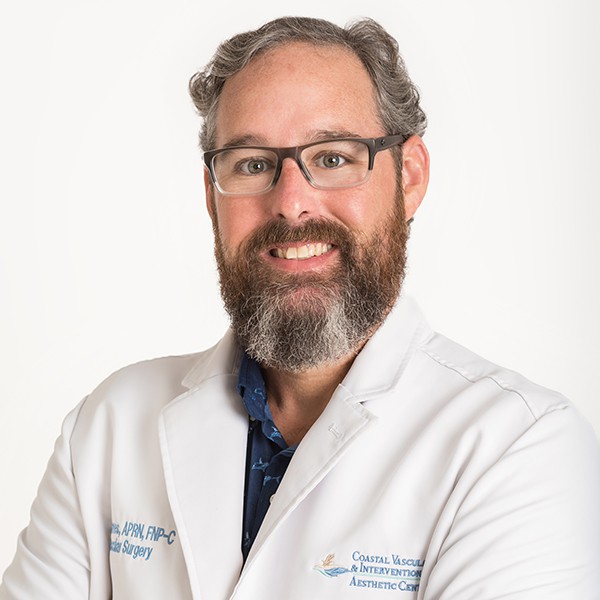 James Graves, III, APRN
Advanced Practice Registered Nurse
James "Jim" Graves, III, APRN, is an Advanced Practice Registered Nurse and an experienced Trauma Nurse Practitioner. Originally from Alabama, he also served in the United States Army as a Stinger Missile Crew Member before obtaining his registered nursing degree.
About James
As an RN, Jim worked in the Progressive Care Unit at South Baldwin Medical Center and in the Emergency Department of Thomas Hospital in Alabama. He then spent several years at UF Health/Shands in Jacksonville, FL, as a Registered Nurse in the emergency room and ICU. Shifting gears, he then transitioned to Fort Walton Beach Medical Center where he worked as Operating Room Circulator and Operating Room Charge Nurse. Before joining Coastal Vascular and Interventional, Jim worked as a Hospitalist Nurse Practitioner and Trauma Nurse Practitioner with Envision Hospitalist Group.
Jim and his wife Dana are very happy to be in Fort Walton Beach and have one daughter, Lennon. They enjoy the beach, taking the boat out, college football, and fishing our beautiful waters. He is also a proud member of the Fort Walton Beach Sailfish Club, the Coastal Conservation Association (CCA) of Choctawhatchee Bay, and the Emerald Coast Fishing Club.
MSN

| Walden University

BSN

| University of Alabama

ASN | Faulkner State Community College
The American Association of Nurse Practitioners

National Association of Orthopedic Nurses

Orthopedic Trauma Association

The Association of Perioperative Registered Nurses