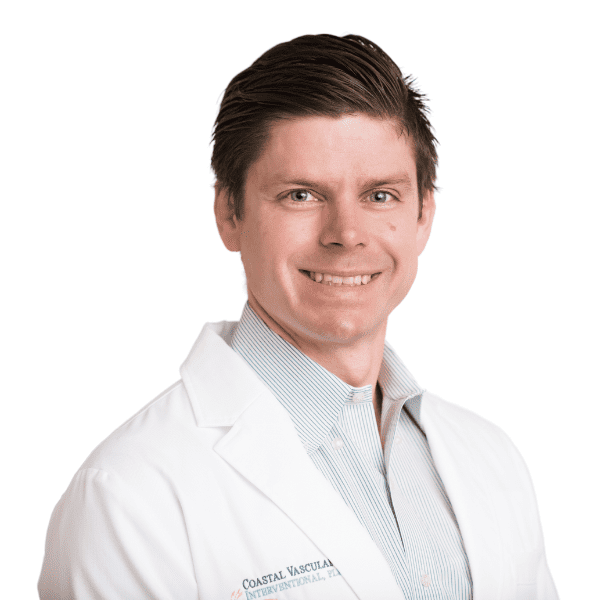 Matthew Sanders, M.D.
Vascular Surgery
Dr. Sanders practices the full range of Vascular and Endovascular Surgery and is certified by the American Board of Surgery in Vascular and General Surgery. He and his family of five are excited to join the Northwest Florida medical community, where he hopes to continue his reputation for providing precise and compassionate care. Now accepting new patients!
About Dr. Sanders
Coastal Vascular and Interventional is proud to welcome Dr. Matthew Sanders to our team of vascular physicians! A Louisiana native, he obtained a B.S. in Biological Sciences with a minor in German Language from Louisiana State University. Afterwards, he completed his medical school and general surgery residency at Louisiana State University- Shreveport-where he received numerous honors and accolades. He went on to complete an ASTS fellowship in Kidney, Liver and Pancreas Transplantation at Northwestern University in Chicago, IL.
He then relocated to Miami, FL to obtain additional training in Vascular and Endovascular Surgery at University of Miami/Jackson Memorial Hospital. Upon completion of his training, he joined Gulf Coast Vascular Surgeons in Fort Myers, Fl, where he gained additional experience in outpatient peripheral vascular interventions.
MD | Louisiana State University- Shreveport
General Surgery Residency | Louisiana State University- Shreveport
Vascular Surgery Fellowship | University of Miami
Abdominal Organ Transplant Surgery Fellowship | Northwestern University
American Board of Surgery in Vascular and General Surgery