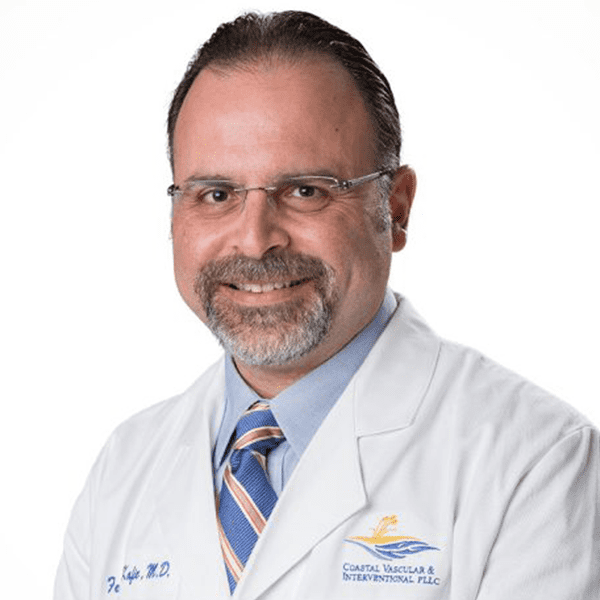 Fernando Kafie, M.D., F.A.C.S.
Vascular Surgery
Fernando E. Kafie, M.D. earned his medical degree from the UCLA School of Medicine in 1993. He completed his general surgery residency from the University of California Irvine Department of Surgery in1999 and continued with his vascular fellowship at the prestigious Gonda-Vascular Institute in Los Angeles, California (UCLA).
About Dr. Kafie
Dr. Kafie is board certified in both general surgery and vascular surgery through the American Board of Surgery. Dr. Kafie moved to Florida in 2000 to practice in Pensacola.
As the Medical Director for the Vascular Access Center, Dr. Kafie maintains an active role at Sacred Heart Hospital. He holds numerous endovascular certifications and surgical society affiliations such as Florida Vascular Surgery Society, American College of Surgeons and Peripheral Vascular Surgery Society.
Dr. Kafie has published numerous articles and book chapters in prestigious medical journals. More recently, he was recognized as a "Champion Surgeon" in the state of Florida by the Center for Medicare and Medicaid Services.
Dr. Kafie has special interest in minimally invasive treatment of varicose veins as well as treatment of dialysis patients.
MD | UCLA School of Medicine
Residency | University of California Irvine Department of Surgery
Fellowship | Gonda-Vascular Institute
Florida Vascular Surgery Society
American College of Surgeons
Peripheral Vascular Surgery Society