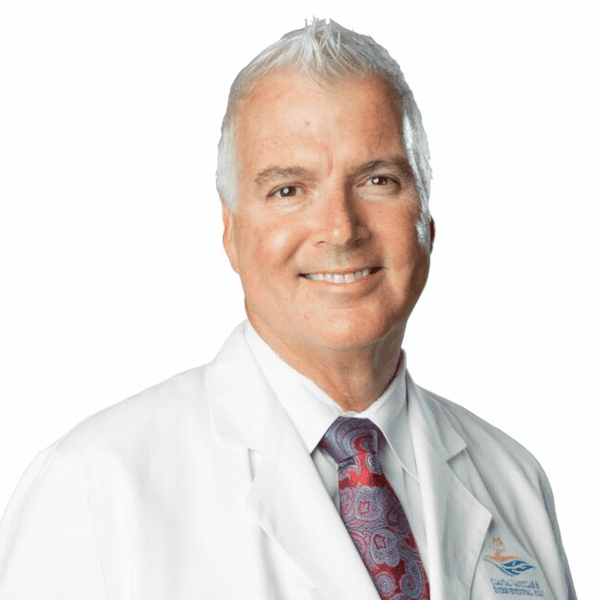 Geoffrey L. Risley, M.D., F.A.C.S.
Vascular Surgery
Coastal Vascular & Interventional, PLLC is pleased to introduce Dr. Geoffrey Lake Risley to the Fort Walton Beach and Emerald Coast Communities. Dr. Risley joins us from Jacksonville, FL where he has practiced vascular surgery and wound care for 14 years. Dr. Risley is a Florida native and was born and raised in Ft. Myers, FL.
About Dr. Risley
He attended the University of Florida for his undergraduate and medical degrees. From Gainesville, he travelled to University of North Carolina-Chapel Hill for his General Surgery residency and Vascular Surgery fellowship. After completing his Vascular Surgery fellowship, Dr. Risley joined a prestigious practice in La Jolla, CA where he received additional training in advanced venous treatment with one of the "fathers" of venous surgery, Dr. John Bergan. Dr. Risley returned to Florida where he reunited with his college sweetheart, Teresa. Dr. Risley and Teresa were married in 2003 and he started practice in Jacksonville, FL. Dr. Risley has remained on the "cutting-edge" of vascular surgery his entire career. While in southern California, Dr. Risley was integral in introducing endovascular aneurysm repair to the private practice community and trained hundreds of surgeons, radiologists and cardiologists across the nation in the use of endovascular stent graft to treat AAA in a minimally invasive fashion. Upon his return to Florida, he continued as a leader in adoption of new technology introducing laser and RF ablation of the greater saphenous vein to Orlando and Jacksonville communities. Dr. Risley has introduced the use of peripheral atherectomy and novel percutaneous access sites for the treatment of severe peripheral arterial disease that often has been deemed untreatable by other physicians. He has also been very involved in the treatment of carotid disease. Dr. Risley has been actively involved in carotid angioplasty and stent trials and was the first physician in Jacksonville and one of the first in Florida to use the transcarotid artery revascularization (TCAR) system for treatment of carotid stenosis. Throughout his career Dr. Risley has been passionate about providing the best possible options for patients with peripheral arterial disease, carotid disease, aneurysmal disease, venous disease and chronic lower extremity wounds. He has remained committed to education and leadership and has been the president of the Florida Vascular Society, the voice for Florida Vascular surgeons, the Jacksonville Vascular Society, Chair of the Post-graduate education committee for the Southern Association for Vascular Surgery and a Committee member on the young surgeons committee, private practice committee and political action committee for the Society for Vascular Surgery.
Dr. Risley and Teresa are excited to relocate to Northwest Florida as Teresa is from a Navy family and grew up in Pensacola graduating from Escambia H.S. Her family remains in the area. The couple has 3 children, 2 who are grown and out of the house and will remain in Jacksonville. Geoffrey, Jr., their 13-year old son will be joining them and is looking forward to starting HS in Fort Walton Beach. Geoffrey, Jr. loves to play basketball and football and is excited to join the athletic community in Fort Walton Beach. The Risley family enjoys everything about the water and being outdoors. Boating, paddleboarding, surfing, fishing and scuba diving are some of their favorite activities. Teresa enjoys tennis and Dr. Risley enjoys golf. The entire family is excited to join the Medical and Social Community of Ft. Walton Beach and the Emerald Coast and can't wait to see what this new adventure brings in the most beautiful corner of Florida.
MD | University of Florida
Residency | University of North Carolina-Chapel Hill
Fellowship | University of North Carolina-Chapel Hill
Florida Vascular Society
Florida Vascular surgeons
Jacksonville Vascular Society
Southern Association for Vascular Surgery
Society for Vascular Surgery