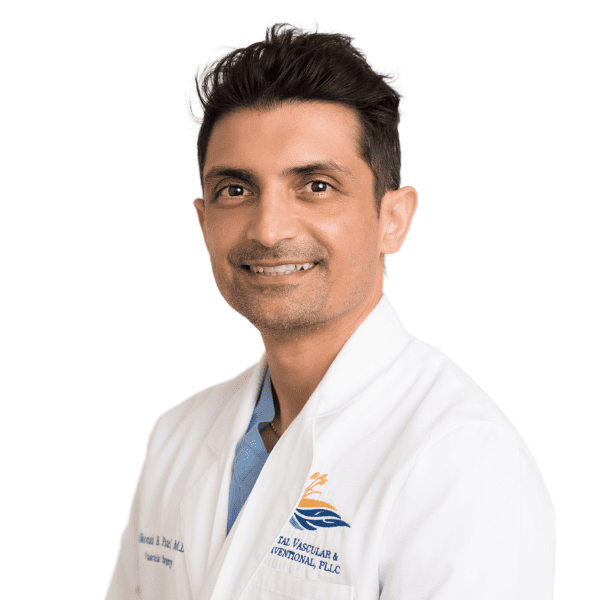 Shonak B. Patel, M.D., F.A.C.S.
Vascular Surgery
Dr. Shonak Patel graduated cum laude from Mercer University in Macon Georgia in 2002 with a B.A. in Philosophy and minor in Biology and Chemistry. He earned a doctorate of medicine from Ross University School of Medicine in 2006. In 2011, Dr. Patel concluded his general surgery residency and his vascular surgery fellowship in 2013. He is board certified in both general and vascular surgery.
About Dr. Patel
Dr. Patel is licensed to practice medicine in Florida. He is a member of numerous professional societies including Florida Vascular Society, Southern Association of Vascular Surgery, Vascular & Endovascular Surgery Society and Outpatient Endovascular & Interventional Society. From 2006 to 2016, he is credited with over a dozen presentations, publications and honors. He actively participates in clinical research aimed at improving clinical vascular outcomes.
As a contemporary vascular surgeon, Dr. Patel is trained to perform a spectrum of vascular therapies including endovascular "minimally invasive" and open surgical procedures. His care philosophy is to tailor a vascular care plan to the patient's individual vascular need along-side their primary care physician including medical management and lifestyle modifications. Patients can be assured they will get the best care for their particular need.
Dr. Patel lives in Pensacola, Florida. He is a loving husband and father to two delightful little girls.
MD | Ross University School of Medicine
Residency | Northside Hospital
Residency | Akron General Medical Center
Fellowship | University of Alabama
Society of Vascular Surgery
Southern Association of Vascular Surgery
American College of Surgeons